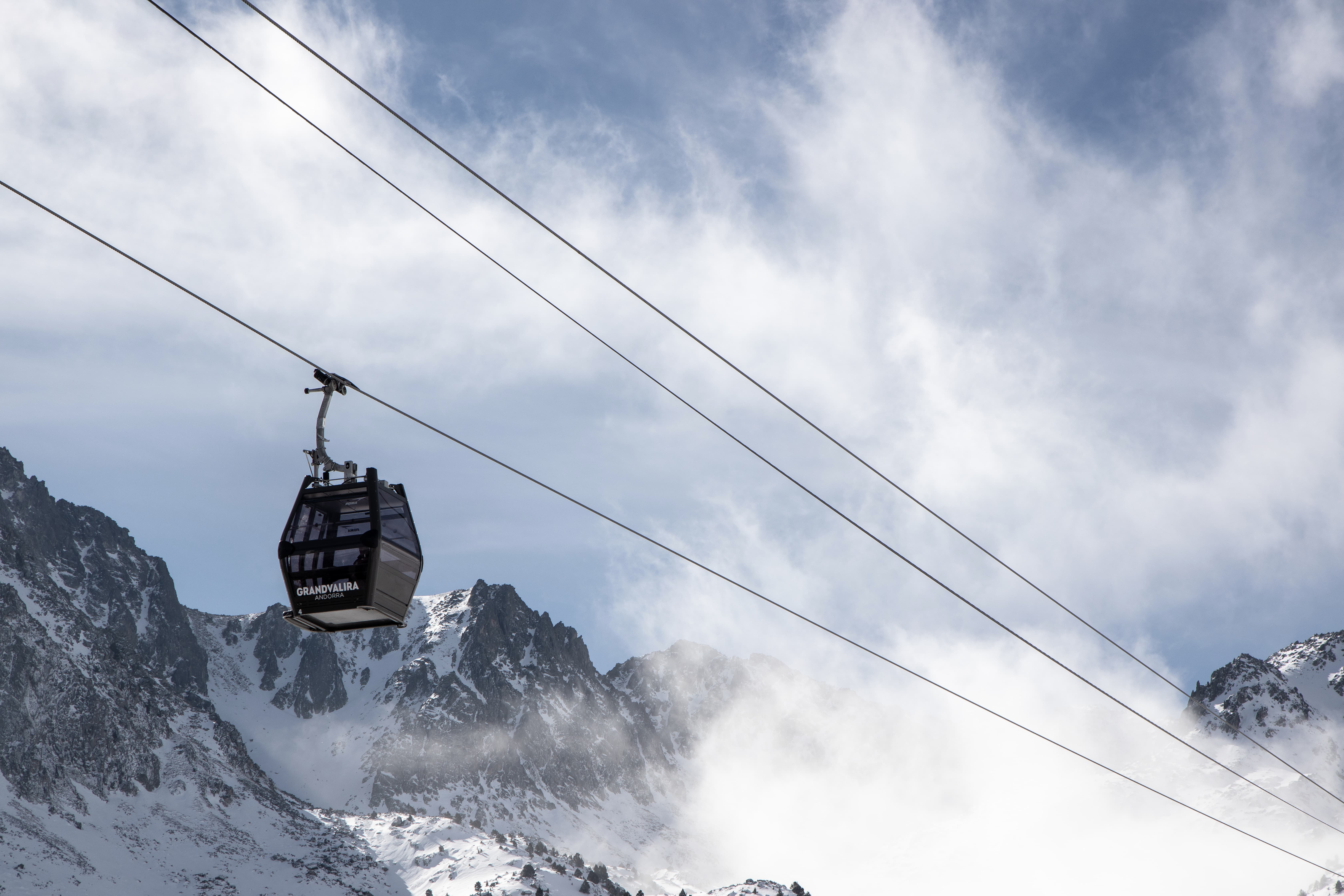 Fotoğraf kredisi: Grandvalira
Grandvalira-Soldeu ziyareti
Grandvalira-Soldeu seyahatinizi planlamanıza yardımcı olacak faydalı tatil yeri bilgileri
Sezon başlangıcı

—

Sezon sonu

—

Konaklama

—

Restoranlar | Barlar

20 | 7

En Yakın Havaalanı

Carcasonne (France)

En Yakın Tren İstasyonu

Hospitalet

Turizm Ofisi Web Sitesi
Turizm Ofisi Telefonu

+ 376 801 060
---
Grandvalira-Soldeu Özellikleri
Grandvalira-Soldeu arazisi şunlar içerir::
Halfpipe

1

Kayak parkları

3

X-Ülke

doğru

Kayak Kiralama

—
Grandvalira-Soldeu tesisleri nasıl bir yer?
In 2002, Grandvalira-Soldeu, was constituted by Soldeu-El Tarter. Now, the two areas are linked with Grau Roig, Pas de la Casa, Encamp and Canillo. Therefore, there are 6 areas in Andorra called: Grandvalira-Encamp, Grandvalira-Canillo, Grandvalira-El Tarter, Grandvalira-Soldeu, Grandvalira-Pas de la Casa and Grandvalira-Grau Roig. Porte des Neiges, in France, will also join the resort, Grandvalira. Nowadays, there are 7 areas of skiing in the same resort. Despite a fair number of new building projects, Grandvalira-Soldeu (Soldeu- El Tarter) retains a good village atmosphere with several excellent watering holes for apres-ski and a good selection of restaurants (and as Andorra is a duty fee zone prices are very reasonable for a ski resort). Accommodation is good at Grandvalira-Soldeu, from the smart hotels near the gondola at the top of the village to more basic apartments down the road. The skiing itself is varied with some pleasant tree-lined runs down to the resort and wide-open pistes higher up. Grandvalira-Soldeu has an abundance of skiing for beginners and intermediates together with some reasonable challenges on and off-piste for experts. Indeed, due to the English-speaking ski school with it's many native English speaking instructors, Grandvalira-Soldeu (Soldeu-El Tarter) is an ideal place to learn to ski or snowboard or to develop your technique.
The statistics are for the whole Grandvalira skiing domain which is now difficult to split into individual resort statistics.
Grandvalira-Soldeu Arnsberg Konum Haritasını İnceleyin
Etkileşimli Grandvalira-Soldeu parkur ve pist haritası. Bölge kırsalını dolaşmak için pist ve parkurların yanı sıra çevredeki arazi ve dağ yapısını görüntüleyin. Kayak merkezi işaretlerine tıklayarak yakındaki kayak merkezlerini bulun ve karşılaştırın.
Grandvalira-Soldeu Canlı Hava Durumu
Tatil yeri
Kar Kalınlığı
Sıca. (°

C

)
Rüzgar (

km/h

)
Hava Durumu
Teleferik Üst:
Teleferik Orta:
Teleferik Alt:
En son web kamerası Bir Grandvalira-Soldeu ziyareti için en karlı ay hangisidir?
Ocak
Ortalama: 3.2 haftalık kar günleri
Grandvalira-Soldeu merkezindeki en karlı hafta, Ocak ayının 4. haftasıdır. Bu hafta boyunca genellikle 3.2 karlı gün ve
31
cm
kar yağışı vardır. Aşağıda yer alan Grandvalira-Soldeu Kar Geçmişi grafiklerine göz atın.
Grandvalira-Soldeu Ziyaretçi Yorumları
Austria 'den Guy Pocock yazıyor:
We visited Soldeu, in the Grandvalira region of Andorra, from 9th to
16th February 2020. We booked the accommodation, transfers from Barcelona, ski hire & ski passes from a wonderful agent, "Andorra Travel Service" ... Gemma, Jackie, James & Iain couldn't do enough for us. They replied to emails within minutes, were friendly and made our stay so enjoyable. One example of their help, we were delayed by 4 hours reaching the ski centre, by Storm Ciara, but Iain still met us at midnight as we got off the Andbus transfer and delivered us to our apartment, Bellavista, which sits facing south with a fantastic view of the village and ski runs. We had a fabulous ski holiday and really enjoyed travelling to the 6 different valleys and 4 ski centres. There are loads of areas throughout the 210km of slopes to visit with good variety and interest. We enjoyed six bluebird days during our holiday & good snow conditions, considering the resort hadn't had a heavy dump of snow for two weeks.
The food and drinks on the mountains were good value, probably close to half the cost of other French resorts we'd been to recently. Also, in Soldeu, there are several good eateries and watering holes. We had an excellent meal in a fabulous restaurant called La Cort del Popaire... it wasn't cheap but is really worth searching out for a special occasion.
All in all, we'd highly recommend you give Soldeu and the Grandvalira ski region a visit. It's a good quality ski centre with excellent lifts, minimal queues, affordable food and drink with lots of ski options that probably suits all levels of skier. Enjoy .... Guy
Grandvalira-Soldeu ile ilgili 33 yorum daha okuyun veya kendi yorumunuzu gönderin