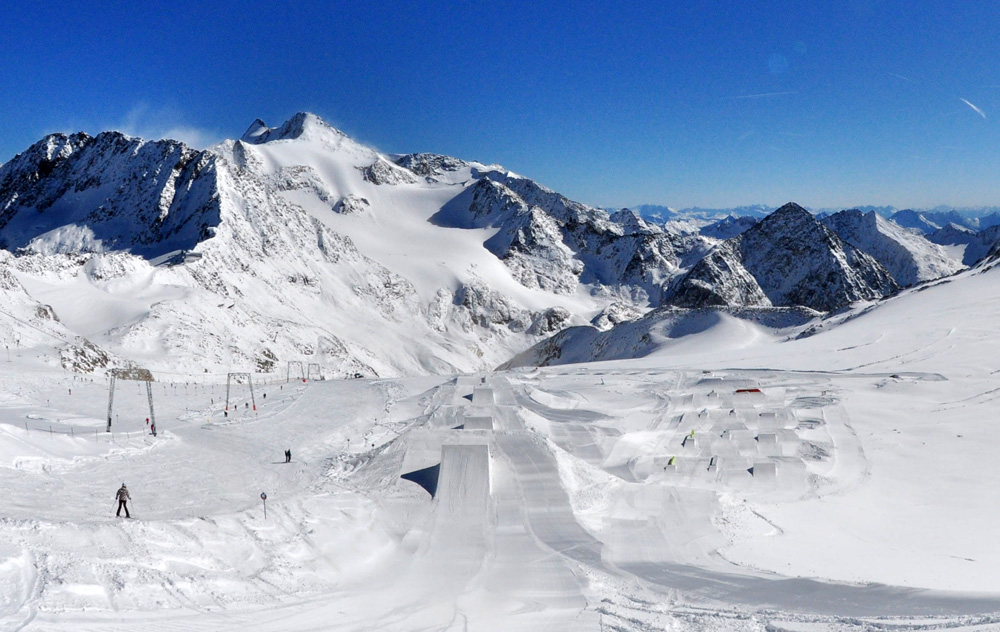 Fotoğraf kredisi: Ethan Stone
Stubai Glacier ziyareti
Stubai Glacier seyahatinizi planlamanıza yardımcı olacak faydalı tatil yeri bilgileri
Sezon başlangıcı

9 Oct 2022

Sezon sonu

6 May 2023

Konaklama

—

Restoranlar | Barlar

5 | 5

En Yakın Havaalanı

Innsbruck

En Yakın Tren İstasyonu

Fulpmes

Turizm Ofisi Web Sitesi
Turizm Ofisi Telefonu

4352268141
---
Stubai Glacier Özellikleri
Stubai Glacier arazisi şunlar içerir::
Halfpipe

1

Kayak parkları

1

X-Ülke
Kayak Kiralama

—
Stubai Glacier tesisleri nasıl bir yer?
Situated at the head of the Stubai Valley, the Stubai Glacier is the largest ski area in the Innsbruck area. It is also one of the most popular all-year ski destinations in Europe. Winter sees over 150 km of pistes aimed squarely at the beginner-intermediate. Only a handful of runs at Stubai Glacier are rated expert but the terrain does offer some good off-piste opportunities. The snow record is good but be warned; it can be seriously cold and there is little or no cover provided by trees as you are right at the top of the mountains. Off the slopes you will find two restaurants, a first class hotel and an après-ski bar. Local villages are the main source of accommodation but the proximity of Stubai Glacier to Innsbruck means that this is not really a problem. One hut provides accommodation on the mountain.
Stubai Glacier Arnsberg Konum Haritasını İnceleyin
Etkileşimli Stubai Glacier parkur ve pist haritası. Bölge kırsalını dolaşmak için pist ve parkurların yanı sıra çevredeki arazi ve dağ yapısını görüntüleyin. Kayak merkezi işaretlerine tıklayarak yakındaki kayak merkezlerini bulun ve karşılaştırın.
Stubai Glacier Canlı Hava Durumu
Tatil yeri
Kar Kalınlığı
Sıca. (°

C

)
Rüzgar (

km/h

)
Hava Durumu
Teleferik Üst:
Teleferik Orta:
Teleferik Alt:
En son web kamerası Bir Stubai Glacier ziyareti için en karlı ay hangisidir?
Mart
Ortalama: 4.5 haftalık kar günleri
Stubai Glacier merkezindeki en karlı hafta, Mart ayının 1. haftasıdır. Bu hafta boyunca genellikle 4.5 karlı gün ve
41
cm
kar yağışı vardır. Aşağıda yer alan Stubai Glacier Kar Geçmişi grafiklerine göz atın.
Stubai Glacier Ziyaretçi Yorumları
United Kingdom 'den Tirolerhund yazıyor:
I've skied Stubai on 3 sperate days in the past 12 months and have to say the place is epic! It's so much more than a glacier with 110 km of marked pistes, many of which are non glacial. The snow is always great from the Dresdener Hut upwards and Ski Route (Itinerary)14 to the bottom is magnificent.
For hard core skiers the off-piste is virtually unlimited, with further challenges for ski-touring and couloir thrill seekers. There are crevasses but in the core season these are no issue, however, off-piste is a no-no in the summer months.
For beginners the area around Gamsgarten is perfect with dry snow guaranteed throughout the winter and well into April.
Great choice of restaurants on the mountain with the Dresdener Hut being great value.
Apres-ski at Gamsgarten is incredible, especially when they open the roof and everybody starts dancing on the tables, before de-camping down to the Mutterberger Alm at the bottom for more of the same! Classic Austrian party time.
Mutterberger Alm is also a great 4 star hotel and very reasonably priced for ski in-ski out lovers.
Stubai Glacier ile ilgili 17 yorum daha okuyun veya kendi yorumunuzu gönderin
Stubai Glacier yakınındaki tatil yerleri
Stubai Glacier yakınındaki kayak merkezlerini keşfedin. Oradaki kayak merkezi rehberlerini görmek için aşağıya tıklayın.