Karpenisi ziyareti
Karpenisi seyahatinizi planlamanıza yardımcı olacak faydalı tatil yeri bilgileri
Sezon başlangıcı

—

Sezon sonu

—

Konaklama

—

Restoranlar | Barlar

— | —

En Yakın Havaalanı

Athens

En Yakın Tren İstasyonu

Lamia

Turizm Ofisi Web Sitesi
Turizm Ofisi Telefonu

+30 0237-23506
---
Karpenisi Özellikleri
Karpenisi arazisi şunlar içerir::
Halfpipe

0

Kayak parkları

—

X-Ülke

—

Kayak Kiralama

—
Karpenisi tesisleri nasıl bir yer?
Καρπενήσι (Karpenisi) is a small town located in a remote area of the Pindos Mountains, roughly half way between Lamia Λαμία (78km) and Agrinio, 284km from Athens (Αθήνα). The area, Evritania, has been likened to a little Switzerland and with good reason. Majestic craggy limestone mountains tower over rustic villages where steep roofs indicate how snowy winters can be. The smallish Velouchi ski area is 11km from Καρπενήσι (Karpenisi) and comprises 11 pistes between 1840m and 2220m, served by 7 lifts and high enough to be snowsure. Skiing is suitable for mixed abilities, especially intermediates. There is a ski school and a cafeteria, but little else off-slope on the mountainside above Καρπενήσι (Karpenisi).
Karpenisi Arnsberg Konum Haritasını İnceleyin
Etkileşimli Karpenisi parkur ve pist haritası. Bölge kırsalını dolaşmak için pist ve parkurların yanı sıra çevredeki arazi ve dağ yapısını görüntüleyin. Kayak merkezi işaretlerine tıklayarak yakındaki kayak merkezlerini bulun ve karşılaştırın.
Karpenisi Canlı Hava Durumu
Tatil yeri
Kar Kalınlığı
Sıca. (°

C

)
Rüzgar (

km/h

)
Hava Durumu
Top:
Bottom:
En son web kamerası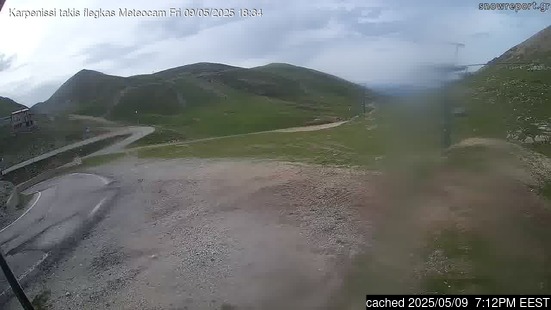 Bir Karpenisi ziyareti için en karlı ay hangisidir?
Ocak
Ortalama: 2.8 haftalık kar günleri
Karpenisi merkezindeki en karlı hafta, Ocak ayının 2. haftasıdır. Bu hafta boyunca genellikle 2.8 karlı gün ve
37
cm
kar yağışı vardır. Aşağıda yer alan Karpenisi Kar Geçmişi grafiklerine göz atın.
Karpenisi Ziyaretçi Yorumları
United Kingdom 'den Michalis yazıyor:
This is a relatively small resort with great potential and, for its size, it has a wide range of slopes from beginner to difficult and some off-piste thrown in. The runs tend to be of average length. Snow conditions tend to be surprisingly good given the geographical latitude it lies at.
It is situated in a very mountainous area in central/western Greece with beautiful forests and a has a strong regional character. Views from the slopes are really impressive.
Here comes the "but": the resort suffers from an old lift system and sometimes an erratic schedule of days when it's open vs closed; suffices to say that in February 2018 a group of us visited the resort twice during the month. At the first visit, the snow conditions were average and the resort was open but the lifts leading to the challenging pistes were not operating. In late February 2018 there was a lot of snowfall. That resulted in excellent snow conditions but the resort remained shut at least 2 days after the last snowfall despite the fact the road had been opened and there was abundant sunshine. No credible reason was given and even the staff at the hotel where we stayed at were surprised.
With some investment in the lift system and an improvement in the management of the resort one can but hopeful that Velouchi / Karpenissi resort will realise its full potential and develop into one of the best in South Eastern Europe. For that to happen management and the local government have to apply persistent efforts and understand the gem they have got in their hands.
Karpenisi ile ilgili 12 yorum daha okuyun veya kendi yorumunuzu gönderin
Karpenisi yakınındaki tatil yerleri
Karpenisi yakınındaki kayak merkezlerini keşfedin. Oradaki kayak merkezi rehberlerini görmek için aşağıya tıklayın.