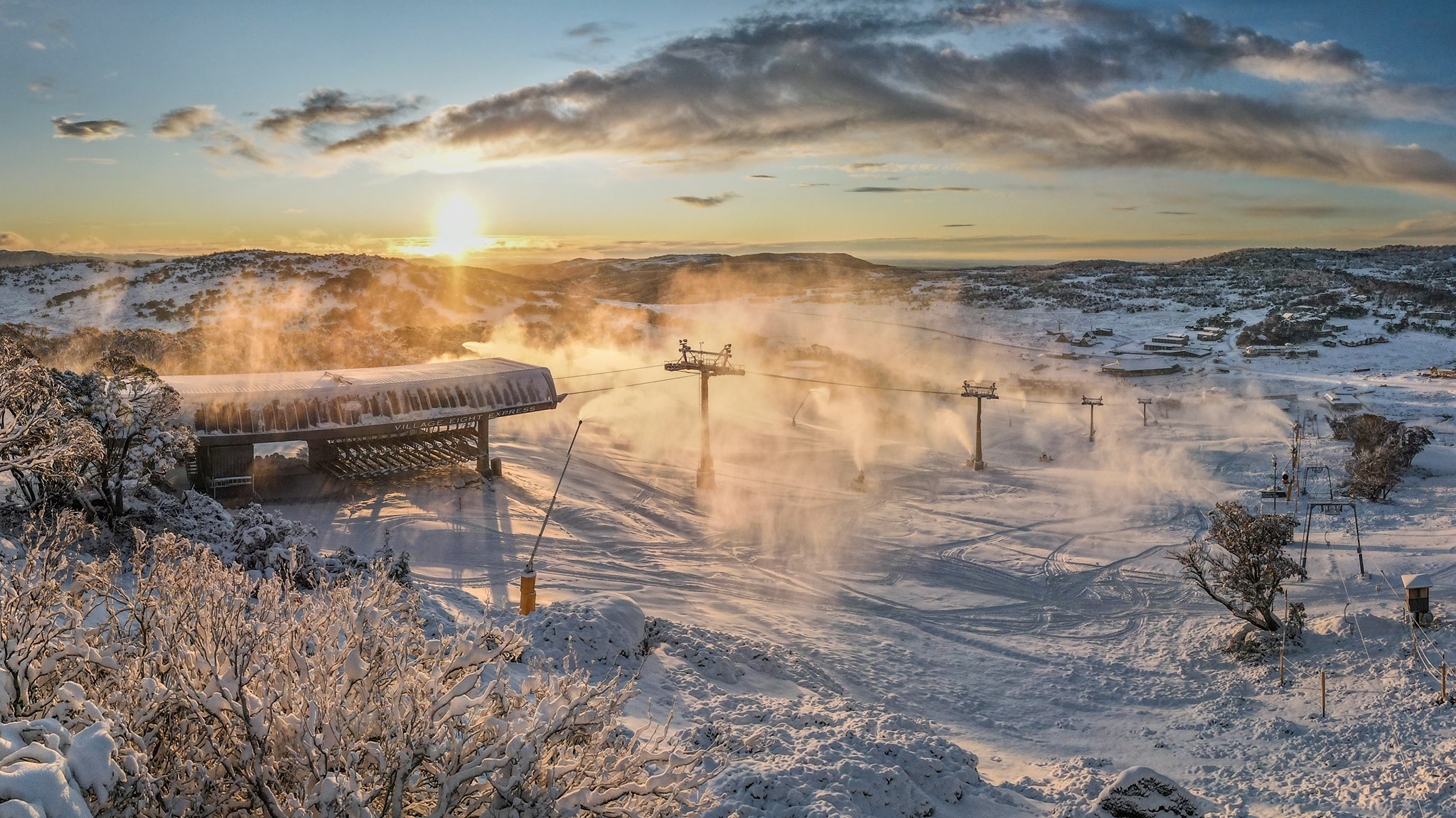 Fotoğraf kredisi: 20cm of fresh snow
Perisher ziyareti
Perisher seyahatinizi planlamanıza yardımcı olacak faydalı tatil yeri bilgileri
Sezon başlangıcı

3 Jun 2022

Sezon sonu

2 Oct 2022

Konaklama

—

Restoranlar | Barlar

11 | 10

En Yakın Havaalanı

Cooma

En Yakın Tren İstasyonu

Queanbeyan

Turizm Ofisi Web Sitesi
Turizm Ofisi Telefonu

—
---
Perisher Özellikleri
Perisher arazisi şunlar içerir::
Halfpipe

1

Kayak parkları

6

X-Ülke
Kayak Kiralama

—
Perisher tesisleri nasıl bir yer?
Perisher consists of four adjacent ski areas: Perisher Valley, Smiggin Holes, Blue Cow Mountain and Guthega which makes this the largest ski resort in Australia with a terrain that is nothing less than sensational. Seven mountain peaks, 47 lifts and 1,245 hectares of skiable area offer something for skiers and snowboarders of all abilities and aspirations. Perisher's lift capacity is close to 53,000 skiers per hour, and lifts such as the six quad-chairlifts and the eight-seater high-speed chairlift, the only one outside Europe, cut through the queues in record time. For freeride skiers and snowboarders, there are six terrain parks plus a superpipe. Perisher is also high. The base elevation is 1,720 m and height matters, given Australia's fickle winters. For cross-country skiers, the Nordic Shelter gives access to more than 100 km of marked runs for skiers of all ability levels. Perisher has more than 60 lodges that offer the convenience of ski-in/ski-out access. And, of course, there's everything you need to make the most of your ski holiday including various dining options, equipment and gear hire, boutiques and bars making Perisher the complete location for the perfect ski holiday.
Perisher Arnsberg Konum Haritasını İnceleyin
Etkileşimli Perisher parkur ve pist haritası. Bölge kırsalını dolaşmak için pist ve parkurların yanı sıra çevredeki arazi ve dağ yapısını görüntüleyin. Kayak merkezi işaretlerine tıklayarak yakındaki kayak merkezlerini bulun ve karşılaştırın.
Perisher Canlı Hava Durumu
Tatil yeri
Kar Kalınlığı
Sıca. (°

C

)
Rüzgar (

km/h

)
Hava Durumu
Top:
Bottom:
En son web kamerası Bir Perisher ziyareti için en karlı ay hangisidir?
Ağustos
Ortalama: 3.3 haftalık kar günleri
Perisher merkezindeki en karlı hafta, Ağustos ayının 3. haftasıdır. Bu hafta boyunca genellikle 3.3 karlı gün ve
16
cm
kar yağışı vardır. Aşağıda yer alan Perisher Kar Geçmişi grafiklerine göz atın.
Perisher Ziyaretçi Yorumları
Australia 'den Schagne Venter yazıyor:
Thredbo and Perisher refuse to acknowledge reality and move this weekend on a week or two, to a time when there is actual snow on the ground. In the seven years that I have lived in Canberra there has never been natural snow on the ground in the first week of July. And to add insult to injury, Thredbo has now even refused to offer the fake snow and toboggan rides which drew families to it. Oh, and they waited until a week before the day to announce that.
So what can you expect? At Thredbo expect zero snow, paying top dollar for ski-lifts, mechanical sled rides food and drink, a sad snow sculpture melting in the heat, empty pubs where one or two bored people watch footy, over-heated coffee shops closing early, a DJ playing house music to which toddlers and pre-teens dance while their parents stand around sipping over-priced beer and wine. The fireworks were such a non-event that we didn't even realise they had happened. At Perisher expect some man-made snow, a few better musos, but not much more. Don't expect a magical, fun-filled snow weekend as advertised in the brochures.
Don't waste your money, time and energy on this over-hyped, over-priced kids party. Snow open weekend offers you zero snow and zero fun at full season prices. Despite the fact that Threbo and Perisher no doubt know, after so many years of having no actual snow on this weekend, that it will be snowless, they continue to promote this weekend as a funtastic opening to the snow. Too much to expect snow on a weekend claiming (and priced) to be the "start of the snowy season"? Apparently it is. Even Perisher barely has any snow at this time of the year and the reason those photos look so filled with happy people on the snow is because everyone is trying to squeeze onto the few man-made patches of snow for their instagram moment.
Until both Thredbo and Perisher start admitting that they are artificially extending the snow season in order to rake in extra money, and stop charging like there is actual snow on the ground, do yourself a favour and don't fall for their lies. Show them the contempt they deserve by boycotting them for these first two weeks of June and go when there is actual snow and you are getting what you pay for. I for one will not be paying snow fees for a zero snow weekend again. Fool me once.....
Perisher ile ilgili 48 yorum daha okuyun veya kendi yorumunuzu gönderin
Perisher yakınındaki tatil yerleri
Perisher yakınındaki kayak merkezlerini keşfedin. Oradaki kayak merkezi rehberlerini görmek için aşağıya tıklayın.