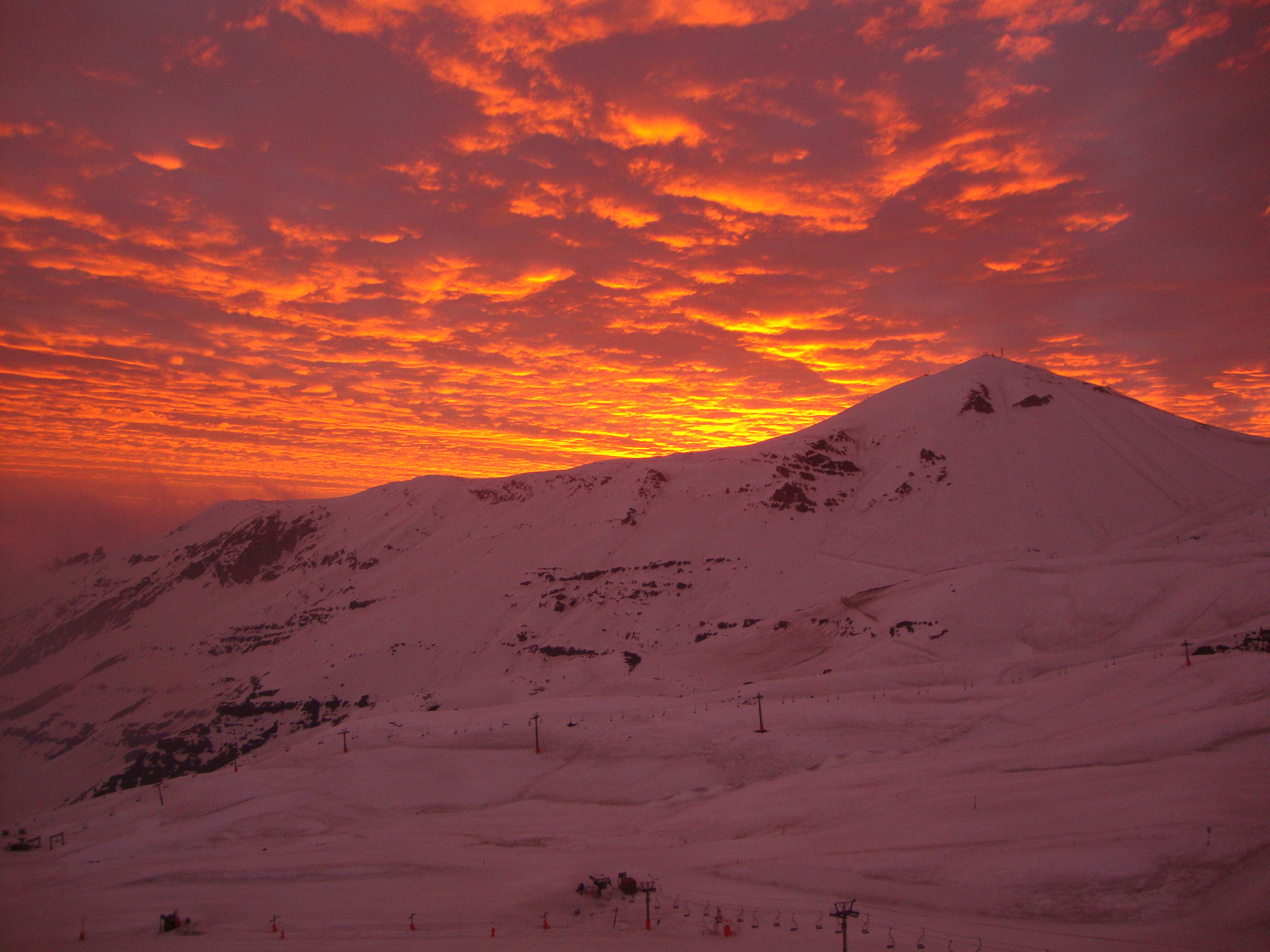 Fotoğraf kredisi: Rafael Leal
Valle Nevado ziyareti
Valle Nevado seyahatinizi planlamanıza yardımcı olacak faydalı tatil yeri bilgileri
Sezon başlangıcı

18 Jun 2022

Sezon sonu

2 Oct 2022

Konaklama

—

Restoranlar | Barlar

8 | 3

En Yakın Havaalanı

Santiago

En Yakın Tren İstasyonu

Santiago

Turizm Ofisi Web Sitesi
Turizm Ofisi Telefonu

US 800 669-0554
---
Valle Nevado Özellikleri
Valle Nevado arazisi şunlar içerir::
Halfpipe

0

Kayak parkları

1

X-Ülke

—

Kayak Kiralama

—
Valle Nevado tesisleri nasıl bir yer?
Tucked away in the pristine Andes Mountains of South America, the Valle Nevado Ski Resort is the ultimate summertime ski trip destination. Located only 37 miles east of the Santiago International Airport, skiers and snowboarders often arrive in the morning and are on the slopes before noon. With the highest elevation and access to the largest skiable terrain in the Southern Hemisphere, Valle Nevado is renowned for dry, light powder covering endless amounts of terrain. With the three slope-side hotels perched on a ridge line in the middle of the mountain, the Valle Nevado Resort offers the most convenient accommodations in an outstanding mountain setting. Accompanied with seven restaurants, three bars, late night discotheque, ski and snowboard school, heated pool, and SPA treatments, a ski trip to Valle Nevado will remedy any case of the summertime blues.
Valle Nevado Arnsberg Konum Haritasını İnceleyin
Etkileşimli Valle Nevado parkur ve pist haritası. Bölge kırsalını dolaşmak için pist ve parkurların yanı sıra çevredeki arazi ve dağ yapısını görüntüleyin. Kayak merkezi işaretlerine tıklayarak yakındaki kayak merkezlerini bulun ve karşılaştırın.
Valle Nevado Canlı Hava Durumu
Tatil yeri
Kar Kalınlığı
Sıca. (°

C

)
Rüzgar (

km/h

)
Hava Durumu
Teleferik Üst:
Teleferik Orta:
Teleferik Alt:
Bir Valle Nevado ziyareti için en karlı ay hangisidir?
Temmuz
Ortalama: 1.8 haftalık kar günleri
Valle Nevado merkezindeki en karlı hafta, Temmuz ayının 2. haftasıdır. Bu hafta boyunca genellikle 1.8 karlı gün ve
48
cm
kar yağışı vardır. Aşağıda yer alan Valle Nevado Kar Geçmişi grafiklerine göz atın.
Valle Nevado Ziyaretçi Yorumları
Brazil 'den 28183232188 yazıyor:
My experience was as a skier who stayed in Santiago and went up on the moutains two days to Valle Nevado and others resorts nearby.
If you are a tourist visiting Santiago and is curious to venture into a ski resort, you will love it!
Otherwise, if you are a skier with some experience and seek a 'ski trip', think twice about choosing Valle Nevado.
I always heard a lot about Valle Nevado and had to go skiing there. I have spent several seasons at other resorts in South America and the US and I can say that going back to Valle Nevado in the future will not be my first choice.
Bariloche, even with poor snow, gives you a better experience. Valle Nevado resort has expensive hotels, few and expensive restaurants, only a refuge (restaurant in the middle of the slopes) and that is expensive, like 15 dollars a beer, 5 dollars a bottle of water and 25 bucks for a pizza. A robbery experience, even more knowing that in Santiago the price is 1/4 of that. The rental equipment is also restricted to just a store only, with high price, and an reasonable equipment. In addition, at 5pm everything is closed, including the only gift shop at the base of the parking lot (which also has no restaurant). If you are not staying at the resort hotel, forget the after-ski because you will have nothing.
For those who do not want to stay at the resort and will stay in Santiago, the road is poor, with little maintenance; very tight. But worst of all is that it is traffic jammed for several hours. Incredibly they don't salting icy roads, even with snow forecast. The result is that when it snows, it forms a layer of ice for several kilometers, which causes a gigantic traffic jam for hours. In addition, there is a snow chain rental cartel at an absurd price. And even on hot sunny days, the police supervise and ask the 'possession' of snow chains. That is, you have to rent every single day that you plan to ski (average 25 Dollars per day) or buy (average 100 Dollars).
What is incredible is a city like Santiago, with fantastic freeway roads (kilometer-long tunnels of 4 lanes to each side, subway, express avenues, v.g.) to cause jealousy in São Paulo, treat so badly thousands of tourists that go up to the mountains every day to the ski resorts. You will feel like being a hostage of a ridiculous road, with few and expensive transfers-van that have scheduled time, or of whom rents a car and falls in the rental market and 'placement' of snow chains. Unfortunate!
The skiable area is good but you can do all the slopes in 3/4 of a day. It seemed to me that the ski area is similar to El Colorado, but the slopes at El Colorado have pleased me a little bit more. The off-piste area is great I could only enjoy it in one day because of the lack of snow, but this is not a resort guilty (ed: do you mean 'resort's problem?'), but the weather and nature. With more snow then the situation changes; the ski area is quite large.
So overall, it was nice to visit Valle Nevado. Would I go back? Only if I fall with a parachute in Santiago for another reason. Would I plan another trip to Valle? Only if it did not have snow elsewhere in Argentinian resorts: mainly Bariloche or Ushuaia. I recommend that if you go skiing for more days, you should also visit La Parva and El Colorado located a bit closer (and slightly cheaper tickets).
I also recommend that you rent a car and get off too early to get out of the traffic jam and pray that an old truck will not break in front of you and stand for hours.
I did not stay 'hosted' up in the ski resort. But some colleagues stayed there and they were enjoying it. But without that excitement and true willingness to return the following year, as we expected, whose like to ski (ed: not sure what you mean to say in last sentence .)
Valle Nevado ile ilgili 97 yorum daha okuyun veya kendi yorumunuzu gönderin
Valle Nevado yakınındaki tatil yerleri
Valle Nevado yakınındaki kayak merkezlerini keşfedin. Oradaki kayak merkezi rehberlerini görmek için aşağıya tıklayın.