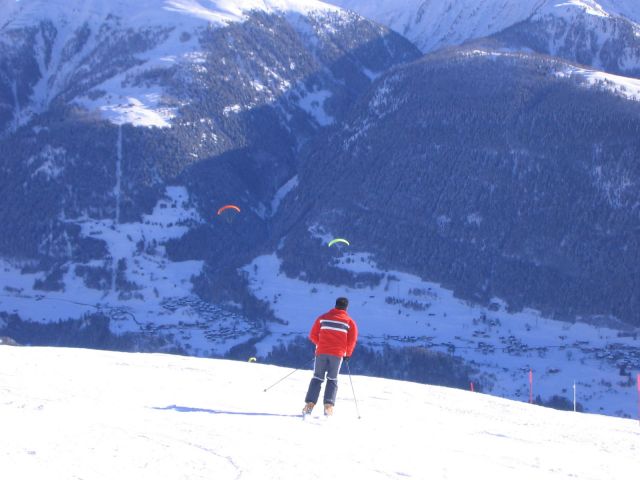 Fotoğraf kredisi: floris
Fiesch - Eggishorn - Aletsch Arena ziyareti
Fiesch - Eggishorn - Aletsch Arena seyahatinizi planlamanıza yardımcı olacak faydalı tatil yeri bilgileri
Sezon başlangıcı

—

Sezon sonu

—

Konaklama

—

Restoranlar | Barlar

11 | —

En Yakın Havaalanı

Zurich

En Yakın Tren İstasyonu

—

Turizm Ofisi Web Sitesi
Turizm Ofisi Telefonu

+41 (0)27 971 27 00
---
Fiesch - Eggishorn - Aletsch Arena Özellikleri
Fiesch - Eggishorn - Aletsch Arena arazisi şunlar içerir::
Halfpipe

1

Kayak parkları

1

X-Ülke
Kayak Kiralama

—
Fiesch - Eggishorn - Aletsch Arena tesisleri nasıl bir yer?
Aletsch Arena (Riederalp, Bettmeralp, Fiesch-Eggishorn) Enjoy skiing and snowboarding like you never have before! On 104 km of great pistes in the Aletsch Arena, discover the dream slopes between Riederalp, Bettmeralp and Fiesch-Eggishorn. At between 1845 and 2869 m, the resort has ideal skiing conditions from December to April. Come and ski to your heart's content no matter what your level under the sunny skies high above the Rhône Valley. Snowboarders and freeriders can let themselves go in the snow parks, halfpipes and along the freeride trails. And there's more: the most liberating nature experience of the Alps is also the most liberating winters sports experience that a skier or snowboarder could imagine. Ski-in, ski-out are magic words to a skier – and magic that is possible almost everywhere in the Aletsch Arena. Most holiday accommodation on this sunny car-free plateau is right at the pistes.
Fiesch - Eggishorn - Aletsch Arena Arnsberg Konum Haritasını İnceleyin
Etkileşimli Fiesch - Eggishorn - Aletsch Arena parkur ve pist haritası. Bölge kırsalını dolaşmak için pist ve parkurların yanı sıra çevredeki arazi ve dağ yapısını görüntüleyin. Kayak merkezi işaretlerine tıklayarak yakındaki kayak merkezlerini bulun ve karşılaştırın.
Fiesch - Eggishorn - Aletsch Arena Canlı Hava Durumu
Tatil yeri
Kar Kalınlığı
Sıca. (°

C

)
Rüzgar (

km/h

)
Hava Durumu
Teleferik Üst:
Teleferik Orta:
Teleferik Alt:
En son web kamerası Bir Fiesch - Eggishorn - Aletsch Arena ziyareti için en karlı ay hangisidir?
Ocak
Ortalama: 3.7 haftalık kar günleri
Fiesch - Eggishorn - Aletsch Arena merkezindeki en karlı hafta, Ocak ayının 2. haftasıdır. Bu hafta boyunca genellikle 3.7 karlı gün ve
62
cm
kar yağışı vardır. Aşağıda yer alan Fiesch - Eggishorn - Aletsch Arena Kar Geçmişi grafiklerine göz atın.
Fiesch - Eggishorn - Aletsch Arena Ziyaretçi Yorumları
United Kingdom 'den Graham yazıyor:
Before I went, I'd never heard of this place, so I didn't really know what to expect - but it was pretty darn good, and has everything!
It is a massive ski area that runs along the side of mountains. I stayed in Fiesch, a traditional swiss village in the valley at 1050m. We got a cable car up to Fiescheralp at 2200m, so there was tons of great snow, and from there there are miles of slopes that takes you to nice villages like Bettmeralp and Riederalp. It takes a whole day to ski from one end to the other and back. There is skiing for all abilities, although you have to be able to do decent blues to get along to Bettmeralp. There are a couple of blacks - one through a tunnel to start with!! It's scary at the entrance, but when you do the run, you'll wonder what the fuss is about (probably because once you've done the gently downhill tunnel you can't go back unless you want to spend 15 minutes going back up!)
Overall the advantages are:
- High elevation skiing, so no need to worry about snow
- Masses of runs that are included on the Aletsch ski-pass
- runs for all abilities - Bettmeralp is great for beginners
- A choice of where to stay. You can stay up in one of the mountain villages so you can ski-to-door, or down in the valley
- There is also a snow-park
- Amazing views across the Rhone valley, including the Matterhorn
Disadvantages -
- Some lifts were quite busy, but it was Feb half term
- Maybe not perfect for experts but there are tons of reds that are hard
- Lots of annoying French snowboarders!
For somewhere so unknown, the Aletsch ski area is fantastic.
Fiesch - Eggishorn - Aletsch Arena hakkında kendi yorumunuzu yapmak için tıklayın
Fiesch - Eggishorn - Aletsch Arena yakınındaki tatil yerleri
Fiesch - Eggishorn - Aletsch Arena yakınındaki kayak merkezlerini keşfedin. Oradaki kayak merkezi rehberlerini görmek için aşağıya tıklayın.