Gressoney-la-Trinite ziyareti
Gressoney-la-Trinite seyahatinizi planlamanıza yardımcı olacak faydalı tatil yeri bilgileri
Sezon başlangıcı

—

Sezon sonu

—

Konaklama

—

Restoranlar | Barlar

19 | 10

En Yakın Havaalanı

Turin

En Yakın Tren İstasyonu

Pont St Martin

Turizm Ofisi Web Sitesi
Turizm Ofisi Telefonu

+39125366015
---
Gressoney-la-Trinite Özellikleri
Gressoney-la-Trinite arazisi şunlar içerir::
Halfpipe

—

Kayak parkları

—

X-Ülke
Kayak Kiralama

—
Gressoney-la-Trinite tesisleri nasıl bir yer?
Gressoney La Trinite is within the Monterosa Ski area alongside Champoluc and Brusson. The vertical drop at Gressoney-la-Trinite is over 1300 mtres. There are 24 trails at Gressoney-la-Trinite with 11 lifts to service the slopes. There is also cross country skiing here. The nearest airport to Gressoney-la-Trinite is Turin.
Gressoney-la-Trinite Arnsberg Konum Haritasını İnceleyin
Etkileşimli Gressoney-la-Trinite parkur ve pist haritası. Bölge kırsalını dolaşmak için pist ve parkurların yanı sıra çevredeki arazi ve dağ yapısını görüntüleyin. Kayak merkezi işaretlerine tıklayarak yakındaki kayak merkezlerini bulun ve karşılaştırın.

Gressoney-la-Trinite Canlı Hava Durumu
Tatil yeri
Kar Kalınlığı
Sıca. (°

C

)
Rüzgar (

km/h

)
Hava Durumu
Teleferik Üst:
Teleferik Orta:
Teleferik Alt:
En son web kamerası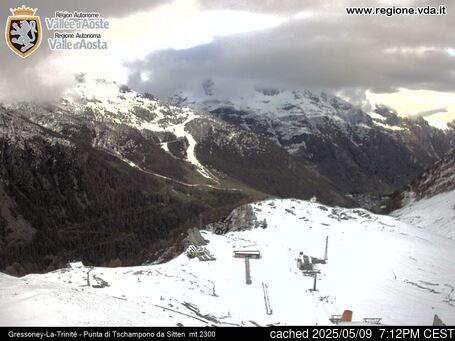 Bir Gressoney-la-Trinite ziyareti için en karlı ay hangisidir?
Kasım
Ortalama: 3.4 haftalık kar günleri
Gressoney-la-Trinite merkezindeki en karlı hafta, Kasım ayının 4. haftasıdır. Bu hafta boyunca genellikle 3.4 karlı gün ve
47
cm
kar yağışı vardır. Aşağıda yer alan Gressoney-la-Trinite Kar Geçmişi grafiklerine göz atın.
Gressoney-la-Trinite Ziyaretçi Yorumları
United Kingdom 'den Bradley yazıyor:
Back to Gressoney for the first time since 2019. Some things never change. Hotel Dufour remains as excellent as ever, but guys, come on? that pool table, please, sort it out! Check out the bar next door for friendly staff and excellent music. Resort remains a hidden gem and in a world of Covid restrictions, its' quiet pistes and lack of queues are even more of an attraction. Some new stuff to talk about. There's a 'fun slope' on the long red down from Champuloc and a basic fun park in Gressoney next to the blue run and a new short black in Alagna.
The 2 very slow twin chairs out of Gressoney still need upgrading. No progress on the plans to link to Cervinia and Zermatt via Frachey, but I think that would spoil what Champoluc, Gressoney and Alagna have to offer.
If you find yourself in Champuloc, visit Bierreria Brasserie in the town for stunning burgers and an even more stunning selection of beers.
Gressoney-la-Trinite ile ilgili 31 yorum daha okuyun veya kendi yorumunuzu gönderin