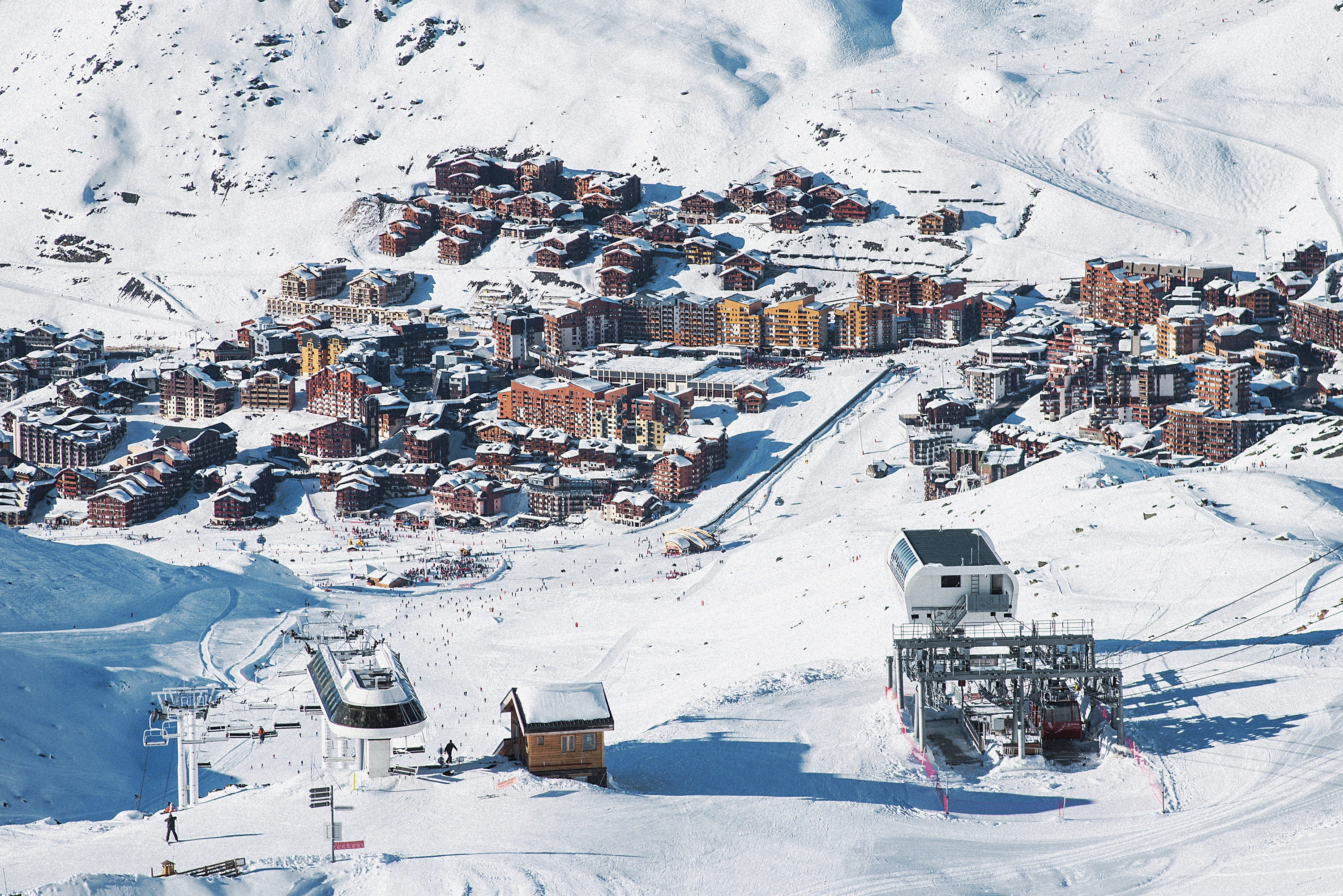 Fotoğraf kredisi: David Andre
Val Thorens ziyareti
Val Thorens seyahatinizi planlamanıza yardımcı olacak faydalı tatil yeri bilgileri
Sezon başlangıcı

21 Nov 2020

Sezon sonu

9 May 2021

Konaklama

—

Restoranlar | Barlar

81 | 48

En Yakın Havaalanı

Lyon

En Yakın Tren İstasyonu

Moûtiers Salins Brides-Les-Bains (37km)

Turizm Ofisi Web Sitesi
Turizm Ofisi Telefonu

+3304 79 00 08 08
---
Val Thorens Özellikleri
Val Thorens arazisi şunlar içerir::
Halfpipe

0

Kayak parkları

1

X-Ülke
Kayak Kiralama

—
Ed Leighs Money Savings Tips whilst visiting Val Thorens
Val Thorens tesisleri nasıl bir yer?
Val Thorens is the resort that combines the best of skiing with the best of atmospheres. At an altitude of 2300 metres, the highest ski resort in Europe and the highest point in world's largest ski area «Les 3 Vallées», with more than 600 kilometres of runs, Val Thorens is without a doubt an exceptional destination. The area has a total of 28 ski lifts, these include 1 cable car, 4 funitels, 4 gondolas, 14 chairlifts and 5 surface lifts.
Renowned for the quality of its snow and up-to-the-minute ski lifts, between powder snow fields and perfectly groomed runs, for beginners to experienced skiers, the Val Thorens ski area offers great snowsports whatever your ability level! Discover a mind-blowing setting and a breath-taking 360° panorama over more than 1000 Alpine summits.
As well as the choice of skiing styles, enjoy a diverse range of lifestyles, a rich, varied selection of accommodation (from 2** apartment residences to 5***** hotels), a wide choice of activities and international-scale events (the Ski Force Winter Tour, Rock On Snowboard Tour, Andros Trophy, Skicross World Cup, SFR Freeskiing Tour…). Whether as a couple, with family or with friends, discover the atmospheres that make the resort what it is, share adrenalin-fuelled experiences and unforgettable moments such as dinner on the slopes, a nighttime toboggan descent, mountain biking on snow, ice driving, massage, beautiful sunsets or quite simply a hot chocolate by the fireside…A lively and trendy resort that foodies will love, come and recharge your batteries and create your own recipe for a successful holiday.
Val Thorens Arnsberg Konum Haritasını İnceleyin
Etkileşimli Val Thorens parkur ve pist haritası. Bölge kırsalını dolaşmak için pist ve parkurların yanı sıra çevredeki arazi ve dağ yapısını görüntüleyin. Kayak merkezi işaretlerine tıklayarak yakındaki kayak merkezlerini bulun ve karşılaştırın.
Val Thorens Canlı Hava Durumu
Tatil yeri
Kar Kalınlığı
Sıca. (°

C

)
Rüzgar (

km/h

)
Hava Durumu
Teleferik Üst:

Teleferik Orta:

Teleferik Alt:
Bir Val Thorens ziyareti için en karlı ay hangisidir?
Ocak
Ortalama: 3.3 haftalık kar günleri
Val Thorens merkezindeki en karlı hafta, Ocak ayının 1. haftasıdır. Bu hafta boyunca genellikle 3.3 karlı gün ve
52
cm
kar yağışı vardır. Aşağıda yer alan Val Thorens Kar Geçmişi grafiklerine göz atın.
Val Thorens Ziyaretçi Yorumları
United Kingdom 'den Stephen yazıyor:
Very much a good skiers resort. Just back from a week before Christmas. At 2300m so feels Arctic at times (especially noticed when you ski back from Meribel or Courchevel). No trees in sight but plenty of high quality skiing with great snow. Stayed at Les Balcons which is ski in-ski out for a good skier (just off a red piste). Lovely apartments with gym, pool, supermarket and ski hire in the complex. Highly recommended.
Val Thorens ile ilgili 40 yorum daha okuyun veya kendi yorumunuzu gönderin
Val Thorens yakınındaki tatil yerleri
Val Thorens yakınındaki kayak merkezlerini keşfedin. Oradaki kayak merkezi rehberlerini görmek için aşağıya tıklayın.