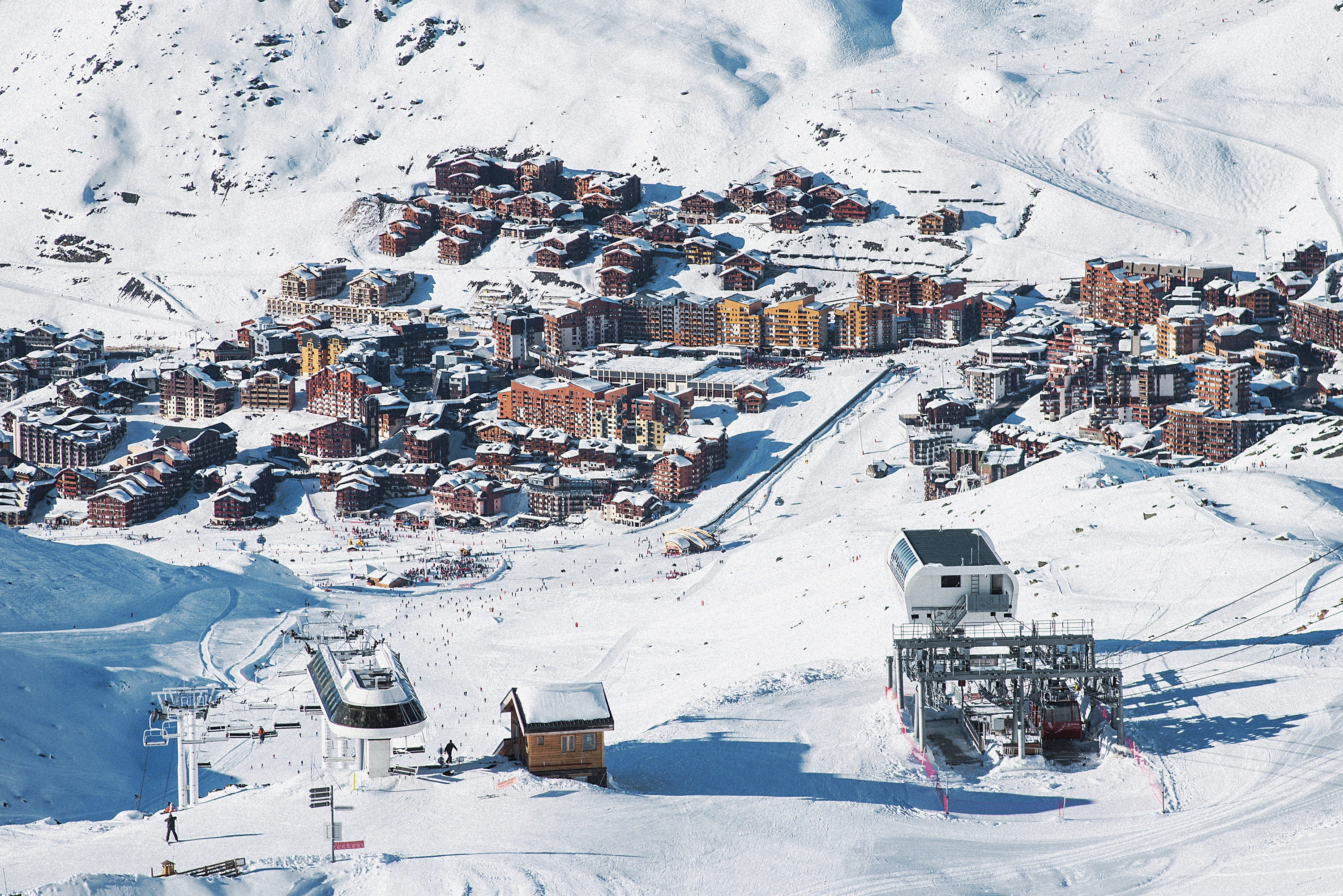 Fotoğraf kredisi: David Andre
Val Thorens ziyareti
Val Thorens seyahatinizi planlamanıza yardımcı olacak faydalı tatil yeri bilgileri
Sezon başlangıcı

20 Nov 2021

Sezon sonu

8 May 2022

Konaklama

—

Restoranlar | Barlar

81 | 48

En Yakın Havaalanı

Lyon

En Yakın Tren İstasyonu

Moûtiers Salins Brides-Les-Bains (37km)

Turizm Ofisi Web Sitesi
Turizm Ofisi Telefonu

+3304 79 00 08 08
---
Val Thorens Özellikleri
Val Thorens arazisi şunlar içerir::
Halfpipe

0

Kayak parkları

1

X-Ülke
Kayak Kiralama

—
Ed Leighs Money Savings Tips whilst visiting Val Thorens
Val Thorens tesisleri nasıl bir yer?
Val Thorens is the resort that combines the best of skiing with the best of atmospheres. At an altitude of 2300 metres, the highest ski resort in Europe and the highest point in world's largest ski area «Les 3 Vallées», with more than 600 kilometres of runs, Val Thorens is without a doubt an exceptional destination. The area has a total of 31 ski lifts, these include 1 cable car, 4 funitels, 5 gondolas, 14 chairlifts and 7 surface lifts.
Renowned for the quality of its snow and up-to-the-minute ski lifts, between powder snow fields and perfectly groomed runs, for beginners to experienced skiers, the Val Thorens ski area offers great snowsports whatever your ability level! Discover a mind-blowing setting and a breath-taking 360° panorama over more than 1000 Alpine summits.
As well as the choice of skiing styles, enjoy a diverse range of lifestyles, a rich, varied selection of accommodation (from 2** apartment residences to 5***** hotels), a wide choice of activities and international-scale events (the Ski Force Winter Tour, Rock On Snowboard Tour, Andros Trophy, Skicross World Cup, SFR Freeskiing Tour…). Whether as a couple, with family or with friends, discover the atmospheres that make the resort what it is, share adrenalin-fuelled experiences and unforgettable moments such as dinner on the slopes, a nighttime toboggan descent, mountain biking on snow, ice driving, massage, beautiful sunsets or quite simply a hot chocolate by the fireside…A lively and trendy resort that foodies will love, come and recharge your batteries and create your own recipe for a successful holiday.
Val Thorens Arnsberg Konum Haritasını İnceleyin
Etkileşimli Val Thorens parkur ve pist haritası. Bölge kırsalını dolaşmak için pist ve parkurların yanı sıra çevredeki arazi ve dağ yapısını görüntüleyin. Kayak merkezi işaretlerine tıklayarak yakındaki kayak merkezlerini bulun ve karşılaştırın.
Val Thorens Canlı Hava Durumu
Tatil yeri
Kar Kalınlığı
Sıca. (°

C

)
Rüzgar (

km/h

)
Hava Durumu
Teleferik Üst:

1.3

 

m

Teleferik Orta:
Teleferik Alt:

0.8

 

m
Bir Val Thorens ziyareti için en karlı ay hangisidir?
Aralık
Ortalama: 2.9 haftalık kar günleri
Val Thorens merkezindeki en karlı hafta, Aralık ayının 2. haftasıdır. Bu hafta boyunca genellikle 2.9 karlı gün ve
47
cm
kar yağışı vardır. Aşağıda yer alan Val Thorens Kar Geçmişi grafiklerine göz atın.
Val Thorens Ziyaretçi Yorumları
United Kingdom 'den Baz yazıyor:
What can you say about VT? Well, it is a world class resort centre for sure. Excellent facilities and of course being at the base of the resort is 2300m it is one of the most snow sure resorts in the Alps. The variety of terrain is excellent, and for the lower standard skier or boarder / novice the resort is actually perfect in many respects. There are a couple of free lifts in the town which you could easily use to get your kids finding their feet. But also there is plenty of easy enough skiing round the town to keep a beginner going and help them enjoy getting started. For the intermediate and expert VT has lots to offer with numerous really nice long blue runs and reds, and the south facing Goitschel black run, which can be excellent when pisted the night before. Off-piste, if you get a good snow season, is tremendous and lots of it. It will track out very quickly though as the high capacity uplift and popularity mean you could lose fresh tracks by lunchtime particularly during busy periods. Also worth mentioning is the Orelle valley, which a lot of people don't seem to check out. It is the only south facing valley in Les 3 Valleys, and was always one of my favourite places to go as the runs there are also really rather nice. Plenty of positives then.
There is however, one not so positive. The Val Thorens Snowpark. It used to be one of the premier parks anywhere in the Alps I would say, with usually 3 lines of 3 kickers which were 5m, 10m and 15-18m lines. Now it seems there is way less investment in the development of the park, and the same across Les 3 V so if you like this part of skiing you're likely to get disappointed now. In 2019 there was only one XL jump setup which had two options on it as usual. No L size (10m) line, and only small jumps and rails around other than that. This season it looks the same with only one main kicker setup. It really isn't what you should be able to expect of somewhere you'll be paying over 1000 Euros if you want a season pass, or 300 notes for a 6 day pass. They really should be doing better than this, as the parks are always a very popular area in any resort.
On-mountain facilities are pretty decent with sheltered picnic areas for pack lunches, and lots of options for food around. There are also plenty on mountain toilet options, one set at the top of the Plateau lifts, some at the top of La Morraine gondola, and some more at the Cairn/Carron gondola station. The Face West restaurant right in the centre of town is, I would say, perfect for an apres-ski feed and beer. Its a bit pricey, but the view out is better than any other such place in the Alps, I would contest, and it gets the afternoon sun beautifully with it's westerly aspect. A beer is about 10 Euros, Croque Monsuire with fries the same, pizzas are 20 Euros and are nice, and their crepes are superb.
All in all, it is a great resort with lots of options and plenty of snow sure capability. The only downside may be park skiing if that's on your agenda, but there's always Austria and Switzerland where they seem to want to keep that alive and inspiring.
Val Thorens ile ilgili 41 yorum daha okuyun veya kendi yorumunuzu gönderin
Val Thorens yakınındaki tatil yerleri
Val Thorens yakınındaki kayak merkezlerini keşfedin. Oradaki kayak merkezi rehberlerini görmek için aşağıya tıklayın.